Son of a forester and a nurse. Molded from two opposite traits. He was a boxer, a sculptor, actor, painter, played drums, founded the first local councils and youth parliaments in Poland and Ukraine, co-organized the first concerts of Wielka Orkiestra Świątecznej Pomocy Foundation, was president of the Academic Sports Club at the Academy of Fine Arts in Cracow, this year he has ceased to be a patriot, a Catholic and an artist.
In addition, he has been discouraged by people, so he has ceased to be a man, he is simply a performative animal immunized by the vaccine of absurd, distance, and enthusiasm.
Sometimes he is unpredictable, but more often he is known as the heart of a dove. His work is a shaky idiom, it exudes a dose of emotions: it entertains, scares, surprises but is never boring. Sometimes he shows an uncompromising respect to himself and the audience - as proven by a collection of documented injuries acquired while performing around the world.
He admits that from the beginning he was sentenced to performance, father being a forester, a miner, extreme rebel, known as artist "painter of gesture." High school of art bore the name of Tadeusz Kantor. He started his studies at the Krakow Academy of Fine Arts - in the Mecca of living arts in Poland. Diploma defended at the Faculty of Sculpture in the performance art which was unprecedented in Poland. Currently, he is Ph.D. assistant professor teaching performance art, together with Prof. Artur Tajber in first Performance Art Studio at his alma mater. He lives in the Performers Street...
Subordinated all his life to the art of performance.
http://www.arti.asp.krakow.pl/
Image credit: foto by Martyna Piasecka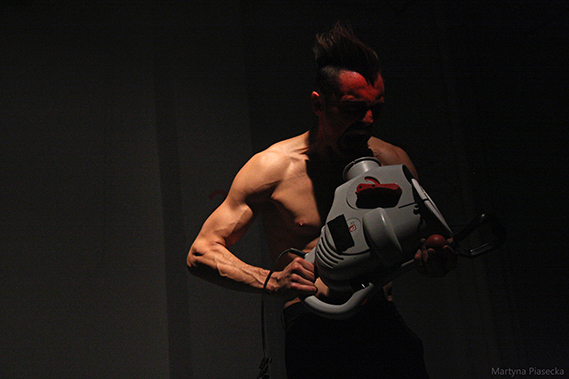 Artur Grabowski (f 1977), Krakow, Polen. Har studerat vid Skulpturavdelningens verkstad för mediaverksamhet vid Konstakademin i Krakow. Tillhör en ung konstnärsgeneration som ägnar sig åt performance, videokonst och installationer. Han påbörjade sin verksamhet inom detta område 1998. Sedan dess har han genomfört ett hundratal verk på många performancefestivaler i Polen och övriga världen. Har deltagit i många performanceföreställningar i Tyskland, Frankrike och USA. Är medorganisatör för den internationella performancefestivalen Zamek Wyobrazni (Fantasislottet), för den internationella alternativa teaterfestivalen A'part samt för internationella aktionskonstfestivalen Interakcje som äger rum i Piotrkow Trybunalski. Dessutom är han medlem i Föreningen Konstfortet där Lukasz Guzek (vice ordförande) och Artur Tajber (ordförande) är ledande figurer. Verkar tillsammans med Anna Syczewska i konstnärsduon Toothsystem.


---